CUSTOM SOFTWARE FOR MANUFACTURING EXCELLENCE
Custom Cabinets & Closets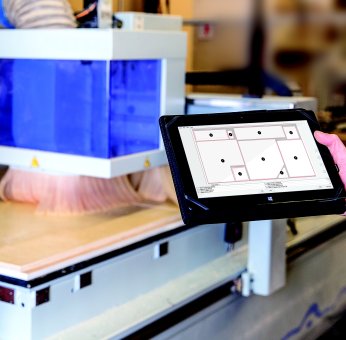 Go direct from design to CNC manufacturing. With KCD Software's One-Button Machining, KCD's Commander calculates and optimizes toolpaths, maximizes your material yield with True Shape Nesting and generates CNC machine code [G code] for your CNC router.
Production speed and agility. Custom one-off pieces are easily modified in the KCD Parts Viewer. One-click lets you add cut-outs, change the shape of your part, move and remove holes, dados and more – then nest with the rest.
Custom fit for CNC technology. We partner with hundreds of companies to provide you with the largest selection of equipment, software tie-ins and tools for your unique design to manufacturing needs.
Excellent yields with CNC ManagerEnjoy additional control over job selection for nesting, rotation of individual parts, and piece quantities for each run.
Group multiple jobs together, along with individual and replacement parts. Include more jobs on each nest to increase productivity and achieve a better yield every time.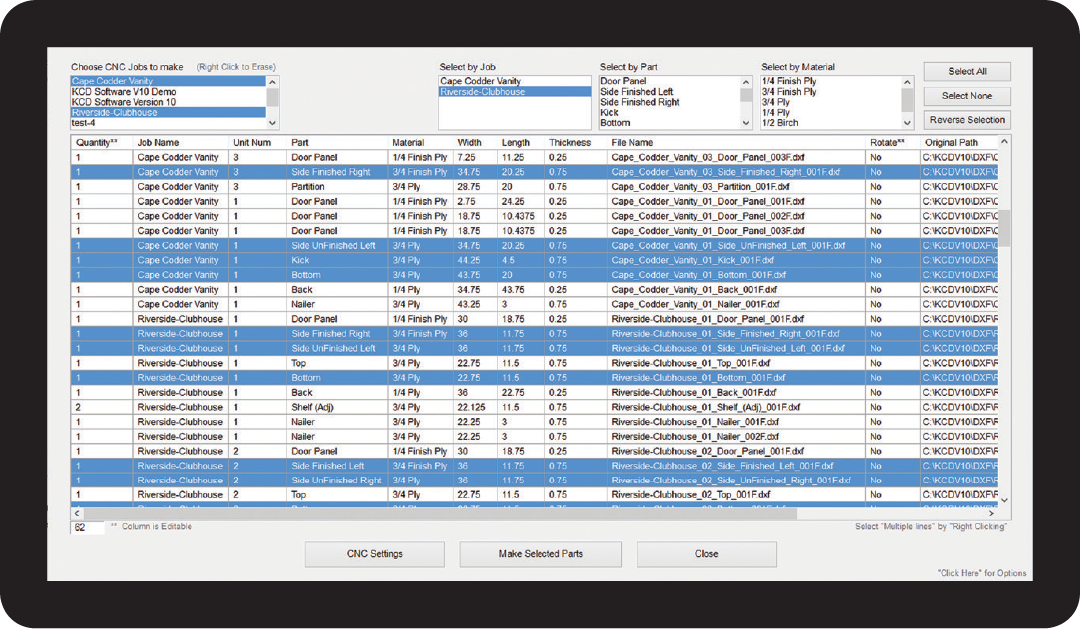 Craft your own CNC manufacturing solution. KCD lets you experience more choices for customized production with your favorite optimization software, table saws, panel saws, beam saws, table routers and other specialized CNC equipment.
Call when you need us – 508-760-1140
We welcome the opportunity to assist you. Our Customer Service Staff and Technical Team is available free of charge, Monday - Friday, 8:30am-5pm EST.
Custom Closet and Storage Manufacturing Solutions
Design to CNC manufacturing that works
Production control meets design freedom. Designers embrace creative freedom while manufacturers breathe a sigh of relief – knowing the building specs are pre-set, and can be changed – for smooth production.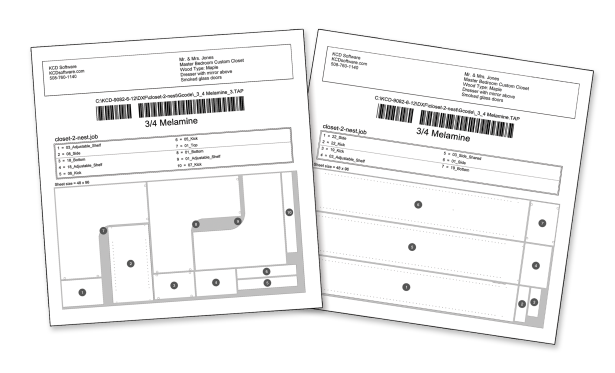 Refreshingly simple custom design. Accommodate your client's space needs with easy to design custom storage systems including wall hang, floor mount, reach-in and the much desired walk-in closet. From simple melamine to more complex wood systems with moldings, glass doors and elaborate appliques, KCD has you covered. Accessories included with the ability to import your own.
Extreme functionality. Design, sell and create everything your client needs quickly and efficiently with KCD's fully-loaded library. Entertainment centers, home offices, garage storage and much more provide stunning solutions for every room.
Go from design and pricing to manufacturing efficiently and accurately with KCD Software – automatically providing reality checks, pricing details and cost-effective cut lists along the way.
Commander's initial set-up to your choice of nested-based router includes a custom post to assure smooth operation of the machining of your custom designs.
Our Tech Team works with you to ensure that your jobs will run to the router as designed – and stand behind your success.
2 month money-back guarantee
Pricing
Commander requires a 3 month initial commitment of $1,995. – with no extra charge for access to our live Tech Support Team to help you get set up. Thereafter:

$295/mo. On Demand (31 days at a time)
2 Months free with Yearly (save -$580)