CABINET & CLOSET COMMANDER
Design to manufacturing excellence with One-Button Machining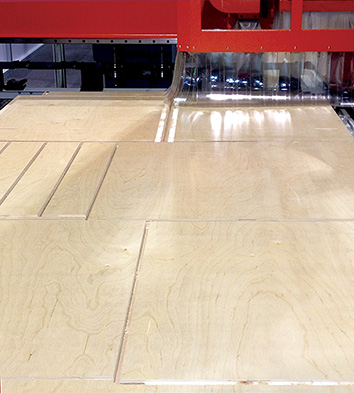 Powerful machining solutions
Depth of customization meets lean efficiency for the ultimate in powerful custom design to manufacturing software. Commander excels with a more efficient user interface for maximum performance.
Get your CNC machine up and running quickly with KCD Software's Tech Team support included.
Send your KCD Software design files directly to state-of-the-art, precision manufacturing machinery with Cabinet/Closet Commander. The easy-to-use One-Button machining process nests your custom job directly to the machine, providing smooth custom manufacturing. Save time, avoid costly errors and increase your business's productivity with CNC Commander.
Parametric template generator defines perimeter cuts, system holes, dadoes, doweling cam locks and other machine operations. One Button CNC Machining set-up defines tooling & tool paths. Commander directly creates the nested G code from your custom design to manufacture on your CNC machine projects including:
Frame or frameless cabinet construction
Entertainment units
Kitchen cabinets, islands and peninsulas
Closets: Walk-ins, Reach-ins, Entries, Pantries
Angled and radius cabinets and countertops
Vanities
Bookcases
China cabinets and hutches
Home office workstations
Fine custom cabinetry... and much more
Custom Frame
Custom Frameless
Cabinotch® Design
Accessories
Adams Wood
Osborne Wood
White River Wood
Matthew Burack Tablelegs.com
Custom Closet
Accessories
TAG Hardware Accessories
TAG Hardware Engage Collection
TAG Hardware Track Wall System
Going to the router is flawless. KCD has simplified the process in a way that really meets our needs. We are always confident the pieces will be cut correctly. It's definitely the simplest, fastest and most reliable software I've ever used.

It would be devastating to lose KCD. It's part of our business from the moment clients sit down with us. Every project we do, we're using KCD to design and present it and send it to CNC. I can bring in a new guy and they can use KCD very quickly. Some of them have used other products and they say they really like KCD. They've never tried to talk me into changing.

I am really impressed with the system. Our sales went up 30% in one year. Most clients have a hard time visualizing their project and KCD is like handing them a photograph of the completed project.

We've done entire houses, including entertainment centers and cabinetry, using KCD. KCD changed our methodology years ago because we saw features that improved the way we do things. CNC made us more efficient. It helped us streamline. It improved the quality, if anything, because we could go direct to cutting.

We do middle- to upper-end custom kitchens ($20,000 to $30,000 range) and we use KCD for every job. We work with homeowners, architects, and designers. If we work with a designer, we enter their design in our system so we can cut it. We can also add more details than the designer thought of.

They knew exactly what I wanted done, and made it happen. I was impressed right out of the gate. They worked with me over the next month on the phone, and back and forth on the computer, to make sure the software was tailored to my needs. They are completely customer-focused. It's unbelievable. I would never change software.

It's easy and has great customer support. You don't have to take classes to use it. Even today, I'll just watch an online video if I need to refresh my memory. I'm completely satisfied; and if I had to do it again, I would buy KCD Software.

We thought we would outgrow KCD over the years, but the software grew and advanced right along with us. It used to take us 8 hours for the average mid- to high-end kitchen. Now it takes us under 2 hours.

We're a custom home builder and custom woodshop, so everything we do is different. The program does what we want it to do. KCD helped us streamline the business so we can do more in a shorter time with less people.

It's not complicated to run the CNC machine with KCD. It's a little intimidating when you first get it but that's where KCD is great because on the phone they just simplify things a lot. They'll talk you through to get you moving and to the point where your shop can run smoothly. We got a lot of things going at the same time. We were more efficient about how we moved parts through [the shop] because they come off the machine and are labeled. It keeps the cabinet parts organized so that everybody knows what's going on – not just the operator.
Product/Feature Comparison
| Features | Designer | Professional | Workshop | Commander |
| --- | --- | --- | --- | --- |
| Technical Support | | | | |
| Free Live Phone Support | | | | |
| Custom Frame Library | | | | |
| Custom Frameless Library | | | | |
| Custom Overlay Frame Library | | | | |
| Custom Closet Library | | | | |
| Accessories Library | | | | |
| Cabinotch® (frame) Library | | | | |
| Cabinotch® Full Access (frameless) library | | | | |
| Osborne Wood Products Library | | | | |
| Adams Wood Products Library | | | | |
| White River Hardwoods Library | | | | |
| Tablelegs.com Library | | | | |
| Tag Hardware Library (free download) | | | | |
| Features | | | | |
| Optional KCD Touch Screen Mode (for PC, PC tablet or laptop) | | | | |
| Full Custom Cabinet Design Studio | | | | |
| Real Wood Grains and Countertops | | | | |
| Predefined Moulding Selector or Customize your Own | | | | |
| Frame and Frameless Cabinetry | | | | |
| Custom Library Creator | | | | |
| Custom Pull Down Menus | | | | |
| 3D Modeling and Rendering | | | | |
| Presentation-quality Multi-Prints | | | | |
| Floor Plans, Elevations and Dimensioned Drawings | | | | |
| Island and Peninsula Walls | | | | |
| Rotate/Mirror-image a Room | | | | |
| Fast-fill a Room with Cabinets | | | | |
| Work in Inches or Metric | | | | |
| Show Handles and Hinging | | | | |
| Change Handles and Hinging | | | | |
| T-Walls and Custom Wall Shapes | | | | |
| Multiple Rooms per Job | | | | |
| Locate and Size Windows and Doors | | | | |
| Customize Door & Drawer Fronts, Panels & More | | | | |
| Zoom in – Zoom out | | | | |
| Full Custom Closet Design Studio | | | | |
| Counter Top View with Dimensions | | | | |
| Rotate Rooms 90 degrees Left or Right | | | | |
| Select Colors and Textures for Units, Walls and more | | | | |
| Add Custom Notes and Comments to Jobs | | | | |
| Edit Wall Shapes | | | | |
| Delete Rooms from Job | | | | |
| Copy and Paste Units | | | | |
| Set Unit Side Details (finished / unfinished) | | | | |
| List of all Units in Job (height, width, depth) | | | | |
| Measure Custom Distances | | | | |
| Show Grid | | | | |
| Align Room to Grid | | | | |
| Select and use Auto Lighting | | | | |
| Customize Lights and Lighting | | | | |
| Show Room Name / Wall Number on Drawing | | | | |
| Import Room Measurements from ETemplate® | | | | |
| Includes 300+ Door & Drawer Styles | | | | |
| Frame only – Set Door Insets | | | | |
| Beaded Face Frames | | | | |
| Multiple Dimension Levels | | | | |
| Door Sizes Report for Door Ordering | | | | |
| Predefined Counter Top Edging or Edit Profile | | | | |
| One-Drive Cloud-sharing | | | | |
| Back-up / Restore Function | | | | |
| Auto Save Jobs – max. 50 | | | | |
| Cabinotch® One-Click Quoting and Direct Order | | | | |
| Custom & Standard Cost Reports | | | | |
| Automatic Cost Estimates generated from designs | | | | |
| Pricing for Doors, Molding, Cabinets, Countertops & Hardware | | | | |
| Door Ordering | | | | |
| Closet Contracts | | | | |
| Closet Proposals | | | | |
| Closet Item Lists | | | | |
| Cabinet Contracts | | | | |
| Cabinet Proposals | | | | |
| Cabinet Item Lists | | | | |
| Built-in Lean Manufacturing Options | | | | |
| Traditional Custom Cut Lists – frame & frameless | | | | |
| Square Foot of Materials Reports | | | | |
| Optimization Integration | | | | |
| Build Details – Frame only Reports | | | | |
| Build Details – Door & Drawer Reports | | | | |
| Build Details – Assembly Reports by Unit | | | | |
| Build Details – Drawer Box Reports | | | | |
| Custom Parts Reports | | | | |
| Design to CNC Machine Code | | | | |
| True Shape Nesting | | | | |
| CNC Manager: Generate Superior Job Nests | | | | |
| One-Button Machining | | | | |
| CNC Parts Viewer/Editor | | | | |
| Management Software Integration | | | | |
| CNC MDF Doors | | | | ADD |
| CNC Dovetail Drawers | | | | ADD |
| CNC Labeling | | | | ADD |
© Cabinotch® is a registered trademark of Insourcing Specialists, Inc. All rights reserved